What's next for Academy of the Near Future?
Empowering Communities with Citizen Science
Having reached over 1,000 TY students in our first year of school outreach, the Academy of the Near (ANF) team is planning our next phase of engagement! With funding from Science Foundation Ireland's Discovery Programme, we will be expanding to a three part workshop series that will initiate a citizen science project in 25 secondary schools across Dublin, Kildare, Waterford, Limerick, Galway, Cork and Kerry. Committed to delivering workshops to students and communities underserved by STEM outreach, 50% of our engagements will take place in DEIS-status schools with 50% of participants identifying as female.
Students as Citizen Scientists
Running over the course of the 2022/23 academic year, students will participate in a community-based citizen science project focused on the theme of 'Active Travel'. As a practice of public participation and collaboration, citizen science encourages communities and civil society to contribute to scientific knowledge, usually with the aim of understanding and solving local challenges.
The initiative is in collaboration with researchers based in University College Dublin and runs as part of the European wide i-CHANGE project. Working alongside professional, international scientists, TY students will use sensors to collect real-time data on local air pollution, congestion levels, and weather patterns. In doing so, students will contribute to data monitoring and collection while playing a fundamental role in co-creating community-focused solutions to local environmental challenges.


The Case for Deeper Engagement
Our shift from once-off workshops to deeper, more sustained engagement is rooted in the extensive student feedback received throughout our first year. As part of our evaluation process, we carried out pre- and post-surveys with student participants to understand the impact of workshop delivery. Prior to any engagement, just 3.3% of students expressed familiarity with smart cities. After a once-off, two-hour workshop this expanded to 57%, while after our week-long 'Design Your Future City' programme it jumped to 92.3%. Most impressively, students' belief in their capacity for problem-solving jumped from 32% pre-engagement to 64.6% after a once-off workshop to 92.4% after a week-long engagement. This data is further reinforced by student testimonials with one youth participant stating:
"I would've preferred for the program to be longer as I feel that we'd have an even deeper understanding of Smart Cities, IoT, and Irish technology companies."
The next steps
Committed to delivering on student demands, the ANF team have taken the first steps in initiating next year's citizen science programme. Last week, we participated in the first of many i-CHANGE stakeholder workshops. During the session, the opportunities, risks, and constraints of the programme and its various components were discussed with an emphasis on finding concrete solutions to any challenges identified.
With the intention of working with 25 partner schools from September onwards, the programme's next steps involve extensive school outreach. If you are a teacher or TY coordinator interested in our citizen science programme, you can register your school to be involved by filling out this short form. We hope that over the course of this project, students will have a meaningful impact on the environmental challenges faced by their towns and communities - a sentiment underscored by Elaine Nevin, the National Director of ECO Unesco:

"We are excited by the opportunity that the Visioneers programme presents to empower students to address environmental challenges we are passionate about, such as climate change, air pollution and sustainable energy."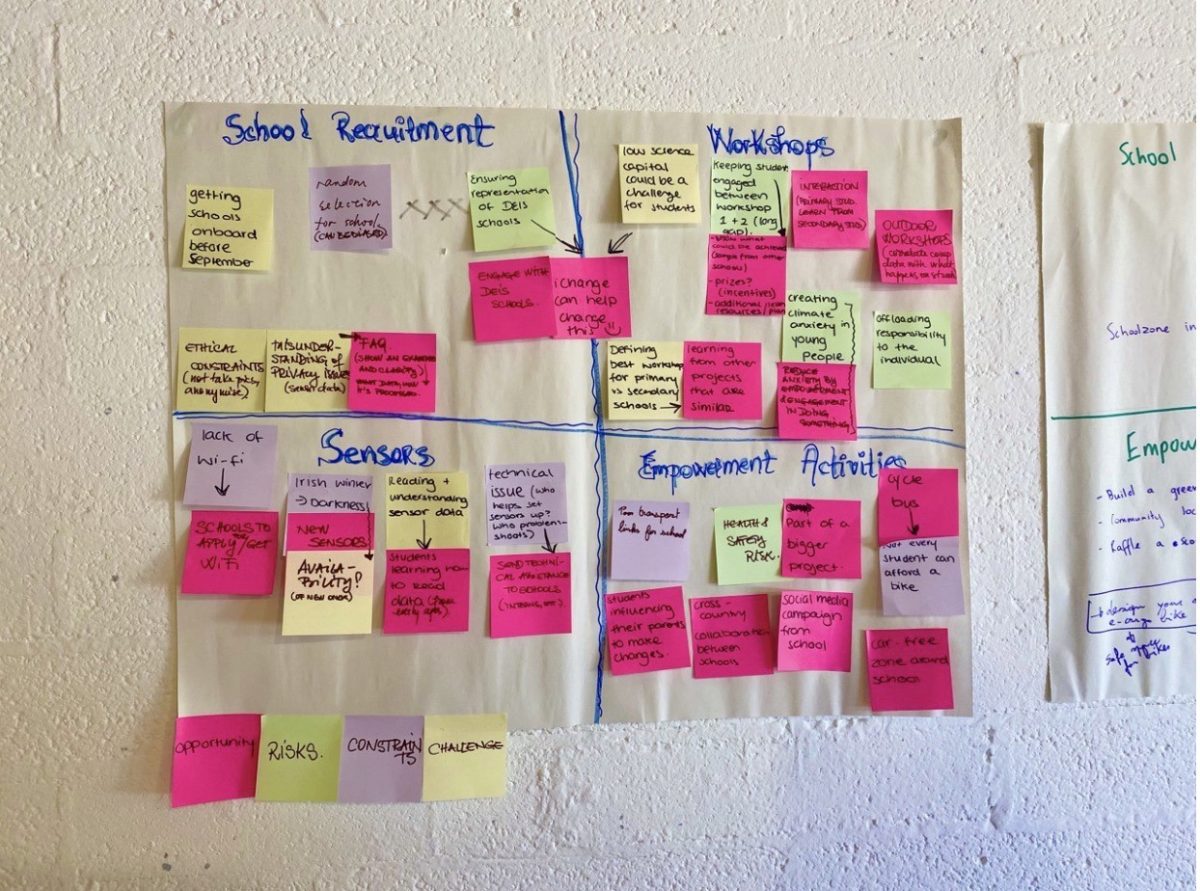 ____
Interested in our team delivering a Smart Cities workshop for Transition Years at your school? Get in touch at info@nearfuture.ie or via the contact form on our website.