That's a wrap!
With the summer holidays quickly approaching, we've had an opportunity to reflect on the past 2021/2022 academic year here at the Academy of the Near Future (ANF) - and what a busy one it's been!
As part of our Visioneers programme, an interactive smart city workshop for Transition Year students, we have successfully reached our goal of reaching 1,000 students, hitting the 1,050 mark last Wednesday following our final workshop in Balbriggan Community College. Committed to demystifying smart cities to groups that are underserved in STEM, 58% of our workshops this year took place in DEIS status schools, with a further 62% of Visioneers identifying as female.
Though co-managed by Smart Docklands (a Dublin City Council initiative) , ANF has national reach through partnership with CONNECT, Ireland's national research centre for telecommunications. This year we were on the road to Limerick, Cork, Waterford, Kildare, and Dublin, to reach all the counties that CONNECT has a partner Higher Education Institute in.
What did the workshops cover?
Over the course of a 2 hour interactive workshop, students were encouraged to think in a critical, creative, and collaborative manner by identifying tech-based solutions to the most pressing challenges in their local communities. Starting off with an introduction to smart cities and the Internet of Things, our workshops offered TY students the chance to see smart city technology in action with a hands-on Micro:Bit activity. With various types of sensors embedded into one Micro:Bit (motion, light, temperature, pressure, compass), students gained insight into the endless possibilities of smart city technology in a learning environment that was both practical and (most importantly) fun!
The second component of our Visioneers workshop focused on design thinking and idea generation. Following the mantra 'every idea is a good idea', students worked in groups to design innovative tech solutions for their local areas. Most impressively, students embraced an ethos of 'design for all' where the idea generation process was grounded in the principles of empathy and inclusivity. As such, our TY Visioneers gained first-hand experience in creating holistic and socially-aware tech solutions to the multidimensional, complex challenges facing contemporary urban spaces.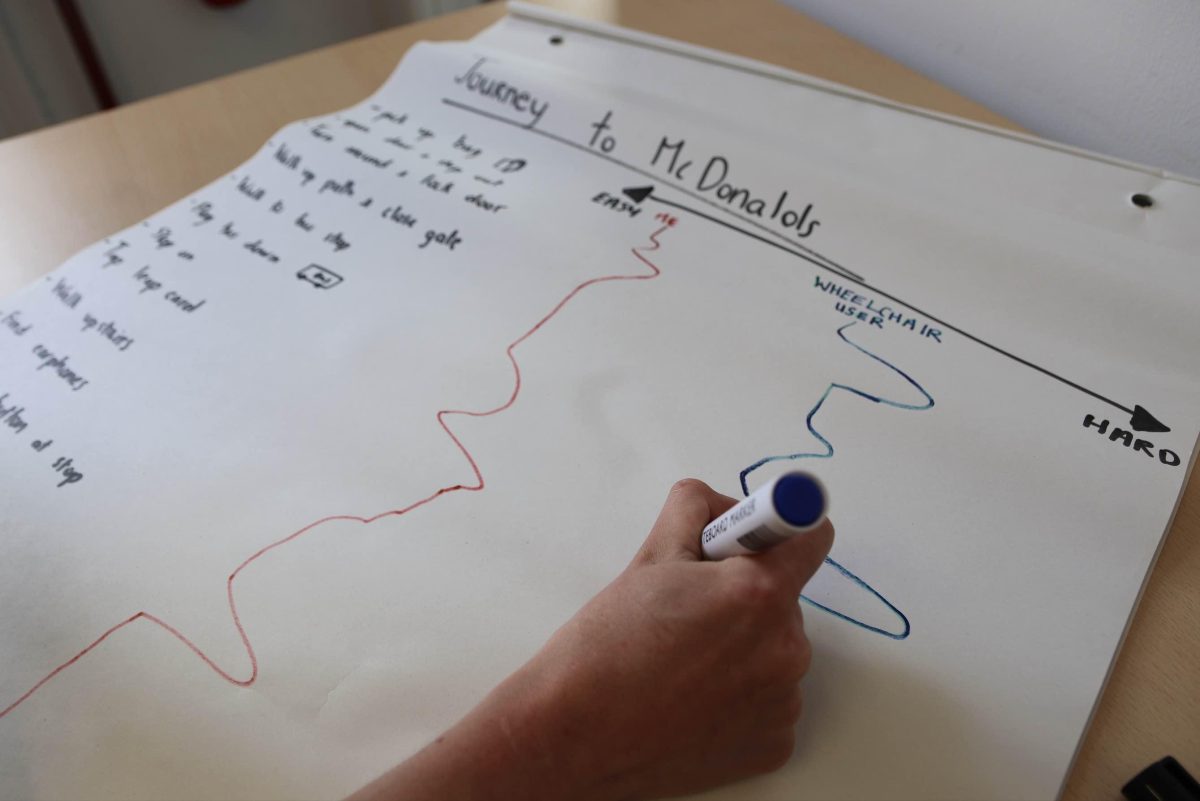 A Space for Co-Learning
Throughout our 2 hour workshops, students successfully created a space of co-learning and collaboration, benefitting not only their peers but all of us here at Academy of the Near Future. Students demonstrated their creativity, developing an array of solutions to solve local challenges. Some of our favourite ideas over the year included 'Look out - Light Up' : a piece of smart clothing that can indicate the direction in which a cyclist is travelling, identifying pedestrian safety as a key issue facing cities today. Other students devised an innovative 'smart washing line' where an inbuilt weather sensor could detect rainfall and quickly provide coverage - a particularly useful idea given Ireland's unpredictable weather!
For all of us here at ANF, the 2021/2022 TY workshops showcased the importance of meaningfully engaging with young people, their everyday perspectives, and, most importantly, their ability to design innovative and compassionate solutions to the problems facing their local areas.
What's Next for ANF?
With a successful first year under our belt, we hope to expand and deepen our Visioneers workshop delivery in the coming 2022/2023 academic year. To achieve a deeper, more meaningful engagement we will deliver a three part workshop series in schools across the country. Students will reflect on community challenges, set up sensors in their local area, review the data and co-create a solution to identified problems. In this next phase of ANF, we hope to build on the success of last year while staying committed to our core principles of acknowledging, listening to, and advocating for the voices of young people.
____
Interested in being a partner school next year? Get in touch at info@nearfuture.ie or via the contact form on our website.