Visioneers
An introduction to smart cities for Transition Year students
In-School Sessions
Are you a Transition Year Coordinator interested in introducing your students to smart cities?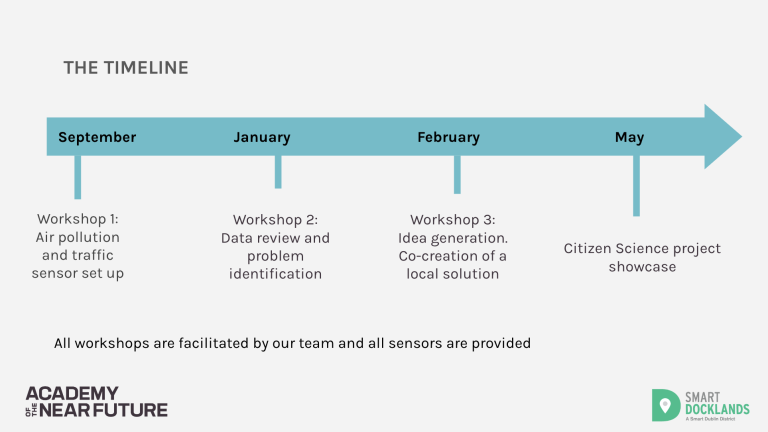 Visioneers provides your Transition Year pupils with the tools to learn to think critically and creatively about the technology that is changing our towns and cities. Our classroom-based workshops provide interactive learning activities, using sensors kits to support the development of analytical skills at the same time as stimulating creativity.
For our 2022/23 programme, we are looking for 25 partner schools to partake in a community-based citizen science initiative focused around the theme of 'Active Travel'.
We will deliver a three part workshop series where TY students will use sensors to capture local data around air pollution and traffic levels. Students will contribute to data monitoring and collection programs in collaboration with professional scientists, playing an essential role in driving a true shift towards a more sustainable future.
Becoming a Visioneers partner school is free. In doing so you will receive:
An initial 2-hour workshop in September where our expert facilitators help students set up air quality and traffic sensors in the classroom
A second 2-hour workshop in January where the data collected is reviewed and problems are identified
A final 2-hour workshop in February where students draw on the data they have gathered to co-create local solutions to local issues
An opportunity for students to showcase their projects in May
The opportunity for your students to apply to attend our Visioneers TY week in April 2023
Learning outcomes for your TY students
Smart city fundamentals
An introduction to sensors, connectivity, and the Internet of Things
Hands-on experience in collecting and assessing local air pollution and traffic
Solving local challenges using technology
To become a partner school for our 2022/23 programme, you can contact us via the website form or email us at info@nearfuture.ie